What better place to kick off the Complete Guide to TA for Mac than the bugs! First off, everything in the complete guide is refering to Version 3.1.2b6, if you don't have this version, then grab the updater now!
If you have any glitches or bugs that aren't listed here, and you want or know a solution, feel free to email me about it!
The Bugs:
The "Memory Glitch"
White Transitions
Overview
This first bug is what I commonly call the "memory glitch" or the "bloody annoying RAM bug", most people on GameRanger call it the "wtf is wrong with my TA" bug. I'vethis glitch a lot of times, and it took me ages to figure out what the problem was, and the solution to it.
Symptoms
The "memory glitch" bug commonly show's it's ugly behind up when trying to use GameRanger to play TA, but it also affects manual Multiplayer games. Baisically, instead of joining a game or showing the connect dialog box, TA simply show's you the Main Menu, which can be annoying because you think that the host's connection has died.
Solutions
The cause of this glitch caused me much greif. I used to get it and the only way I could get rid of it was to re-install TA. But I finally figured it out. What happens is that TA's preffered memory allocation is higher than the actual amout left. So it's simply a matter of changing TA's preffered memory size.
Find TA on your Hard Drive, select it and choose File: Get Info (Cmd - I). Select "Memory" in the drop down list, It should look something like this: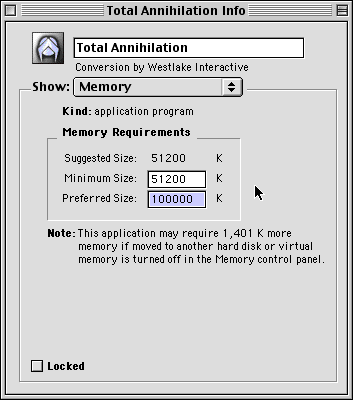 In my version, the Preffered size is 100 000 Kb (about 100 Mb). If we go to "About This Computer", Apple Menu: About This Computer (when in the Finder), it should look something like this: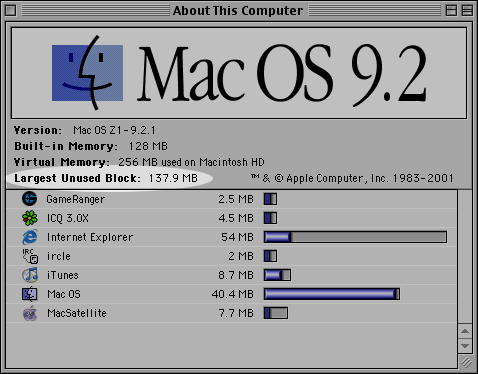 My "Largest Unused Block", as you can see, is 137.9, about 137 000 Kb. If I allow maybe 15 Mb just incase, I could safely set my Preffered Memory in TA as high as 120 000 Kb (120 Mb). If you have tried this and you still get the "memory glitch", please email me, and I'll try to sort it all out.
Overview
A very minor glitch in TA. Only on Mac OS 9.2. Although this glitch is also in Mac OS 9.1 and older, it was fixed with the patch, it didn't fix the problem in 9.2 though.
Symptoms
When navigating the Main Menus (except the menu's during actual gameplay), there is a white flash as a transition from one screen to another.
Solutions
For people running Mac OS 9.1 or previous, just download and install the patch. For Mac OS 9.2, there is no solution as of yet. If anyone does know how to fix it, email me!